Recommendation: Buy
Burford Capital is complicated to value; and so vulnerable to opportunistic short sellers, but this weakness offers opportunities to long term investors.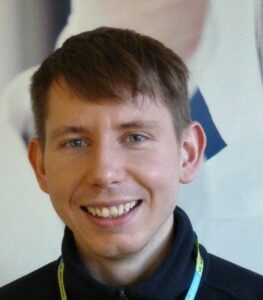 Stephen Gamble, writer and analyst, 12th October 2019.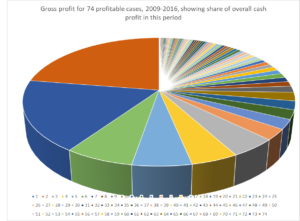 Figure Above: shows how each of 74 concluded matters in period 2009-2016 contributed to profits in this period – 4 matters make up 50% of gross profits, 11 matters make up 75% of gross profits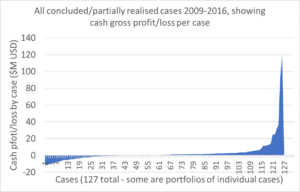 Figure Above: shows gross cash profit/loss for each of the 127 matters concluded/partially realised in period 2009-2016. 58% of cases give a positive return, the rest break even or lose money.
Overview
Burford Capital is in litigation finance, a relatively new industry in a growth phase, with complex assets. The recent attack from short sellers give rise to opportunity for longer term investors.
Lawsuits are risky for companies: they have to commit large amounts of capital up front to pay for expensive lawyers, they can take years to settle, and the return on their investment is unknown until the end, and binary: either a large cash windfall, or else a total loss, and they may even face a liability for costs of the other party. Furthermore, once litigation has started, it has to be seen through to the end in order to prevent a total loss of money invested. This often takes multiple appeals, making the total cost difficult/impossible to ascertain at the start. In summary, lawsuits can be difficult to justify to shareholders since the duration, cost and outcome are inherently uncertain. However, they are often desirable in order to protect key business interests – so the companies are left with a difficult choice when considering whether to litigate or not.
It is at this point that companies considering a lawsuit, are increasingly turning to a third party litigation finance company. They can provide capital, to avoid the problems discussed above, and in return, they take a slice of the outcome. Therefore they do not need to spend money at any point in the litigation process, e.g. on lawyers etc. since the litigation finance company will spend its money instead. This changes litigation from an uncertain and risky enterprise into a simple opportunity cost – that they might have made more money, if they had paid the lawyers themselves. It also incentivises companies to pursue litigation that they might otherwise have deemed too risky. For the company, the cost of making ~30% less money in victory or settlement, is much preferable to the risk of committing an unknown amount of money for an unknown duration, where if the commitment is not followed through to the end, all the money invested is lost. Furthermore, in many cases the company still retains some control over the litigation, and can input into the strategy pursued – without having any financial risk. Litigation finance can be crudely characterised as a 'corporate no win, no fee,' claims industry.
This industry is a relatively immature one compared to the personal claims one, which …
Read more