Ticker:                  PROTCT
Country:              Norway
Stock price:        71,75 NOK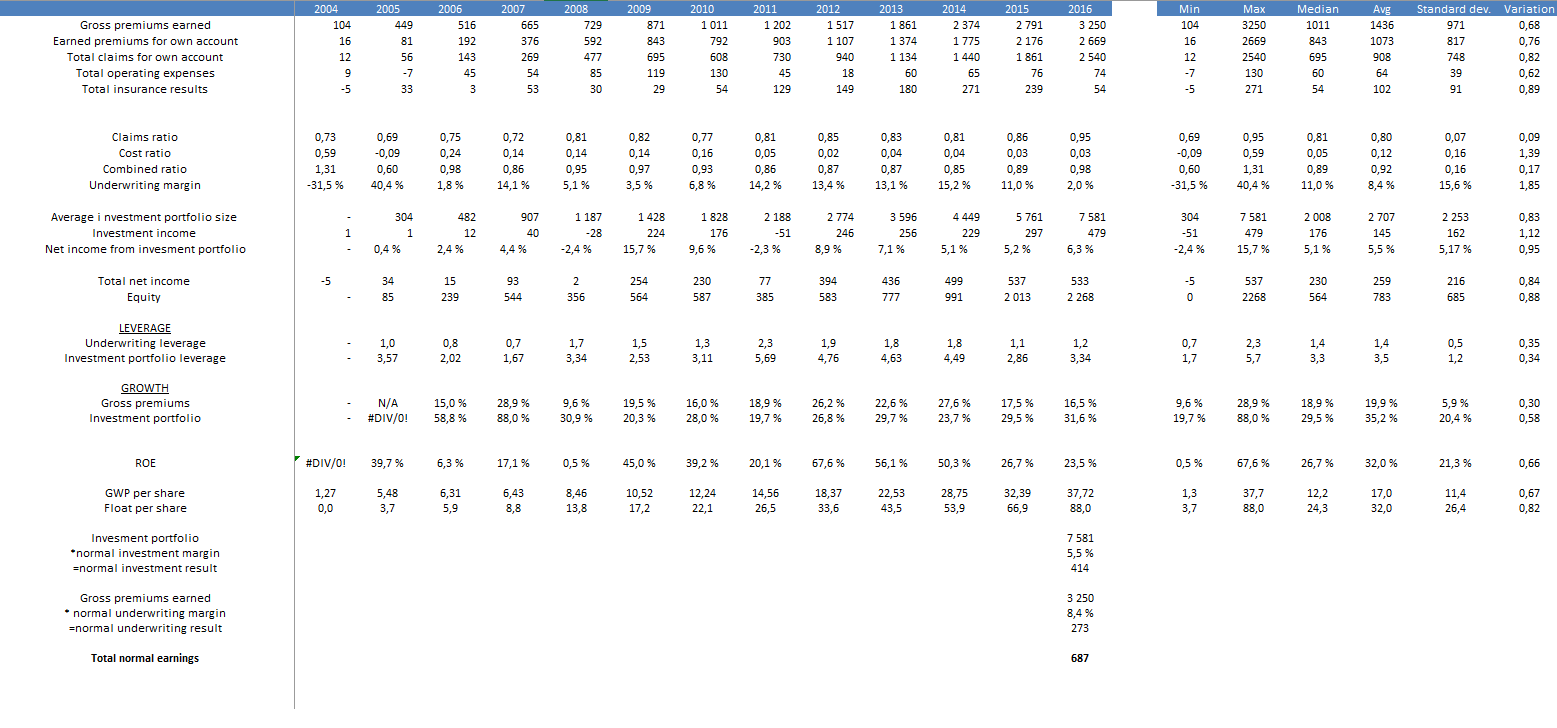 Summary of the thesis:
A fast-growing Norwegian insurer with higher than industry growth in premiums. Historically it has grown premiums at 20 %, achieving 92 in combined ratio and an investment return on the float of 5,5 %.
A low-cost focused business model with industry leading expense ratios.
Protector is trading at approximately 12x normal earnings, which is in line with what the Norwegian market has been priced at historically. This is cheap if the growth and the underwriting record can sustained.
The risks involve an underwriting business with many moving parts in combination with rapid expansion in new markets. The company has experienced mispricing in its policies like worker's compensation in Denmark causing the combined ratio to hit 98 for the fiscal year 2016. Furthermore, the investment portfolio consists of 80 % bonds which might not provide an adequate return.
Overview:
Protector is quite a new player in the Scandinavian insurance market. The company was established in 2004, and listed on the Norwegian stock exchange in 2007. It has 300 employees at offices in Oslo, Denmark, Stockholm, Helsinki and Manchester. In 2006, gross written premiums (GWP) was about 500 million NOK, while in 2016 it wrote 3,4 billion NOK in GWP. In other words, this has been a growth story.
Protector consists of three business segments:
Selling insurance to companies
Selling insurance to the public sector
Ownership insurance
And as of today, 56 % of revenues comes from Norway, 24 % from Sweden, 19 % from Denmark, while others amount to 1 % of the business. It has just started expanding into the UK and Protector insures the London boroughs with Royal Borough of Kensington and Chelsea, City of Westminster and Fulham. You might have noticed the big fire in London recently, and the building Grenfell Tower was insured by Protector. The building lies in the west of Kensington and is a typical example of what kind of risks Protector takes on. At least 30 people were sent to hospital with injuries and several were wounded. This was a tragedy for the people, but most of the risks related to the fire was covered by reassurance. The UK market was chosen based on statistical analysis of the expense ratios and competitiveness of insurance markets across Europe.
The long-term financial goals of the company are the following:
Growth rate of gross written premium: 15 %
Combined ratio for own account: 92 %
Return on equity: >20 %
Protector sells their insurance through insurance brokers. Historically, the focus of the company has been to sell insurance to companies in the segment from 100 thousand NOK up to 3 million NOK. In the commercial lines of business, they have 5 000 customers.
Historically, the company sprung out of ownership insurance. This is where Protector also has the strongest market presence, with more than 50 % market share in the Norwegian market. It is sold through lawyers and real estate brokers. However, today, this line …
Read more