GAN PLC
GAN is a supplier of internet gambling solutions to the US land-based casino industry. GAN has developed an internet gambling enterprise software system, which it licenses to land-based US casino operators as a turnkey technology solution to launch an online and mobile presence.
GAN has developed a Player Account Management (PAM) system where highly sensitive customer and player activity is stored and processed. A PAM, among other things houses all customer data within the state, bears responsibility for identity verification, processing payments, determining that the user is located in a place where gambling is legal, produces regulatory reports and is licensed by each states regulators, provides a dashboard to operators for monitoring purposes and integrates with third party online casino games and sports book, effectively serving as the accounting platform for the casino operator. In a way, the Player Account Management system is to an online casino what the core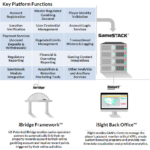 processor is to a bank: An operating and accounting system that keeps track of all transactions. In addition to the PAM, GAN also sometimes develops the front-end interface for Online Casino, Sports Betting and Simulated Gaming websites and apps.
Other add-on elements of a platform can include a sportsbook transaction engine, gaming content, payment services, marketing services, trading services and other activities. Outside of the sportsbook, GAN supplies some of these services to some of its customers.
GAN primarily supplies this software in the US where an increasing number of states are legalizing online sports betting due to the Supreme Court of the United States issuing a ruling that struck down the Professional and Amateur Sports Protection Act (PASPA), the 1992 federal law that had prevented states from regulating sports betting. The passage of PASPA in 2018 left it to states to legalize online gambling activity, rather than gambling being regulated federally. After the passage New Jersey quickly legalized online gambling, followed by Pennsylvania, Indiana and Michigan. Other states are expected to follow suite.
GAN received a patent in 2014 for linking a US casino clients' loyalty account to an online gambling account. The patent covers integration of both social casino gaming and real money gambling with casino loyalty programs and has licensed this patent to FanDuel for a five-year term in return for a Patent license fee.
GAN has several distinct revenue streams:
Real Money Gaming Revenue Share (38% of revenues). This consists mainly of revenue share agreements with local casinos for running their online platform. This segment grew 103% YoY.
License Revenue (27% of revenues). One-off licensing revenue mostly for licensing to Flutter plc. This licensing revenue derives from GAN plc's technology and patents integrating loyalty programs with online gambling. Instead of subscribing to the entire GAN platform, these customers just license this specific part. While it is one off revenue , there are large casino groups that could benefit from licensing GAN plc's technologies and patent.
Platform development revenue (8% of revenues). These are one-off software development revenues that GAN receives for developing its online
…
Read more